The Lancair Legacy is a speedster!!

On Saturday, March 25, 2023, I was finally able to get a ride in a Lancair Legacy, an experimental aircraft!! It was awesome!!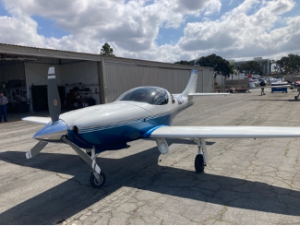 A good friend owns one. The Lancair Legacy is in the experimental category, being built from a kit. Which means, it's not 'FAA Certified'. It's a small 2-seater, with just enough room for an overnight bag behind the pilot's seats. It's like a 2-seat sports car, with wings! You wear it!! It's a very tight fit in the 2-seat cockpit. The engine is a 6- cylinder Continental IO-550, which puts out 310Hp at 2,700RPM, and it cruises at 276 mph!! It only weights 2,200#. So, it has a high thrust to weight ratio. The performance is impressive!
We met at John Wayne Airport (KSNA), where he keeps his Lancair Legacyi, and flew it to Camarillo, CA (KCMA), about 70 miles northwest, where we met up with several other pilot friends, for lunch, at the Waypoint Café. Their Saturday special is tri-tip sandwiches, which are delicious! The Café was filled with diners on a lovely Saturday in SoCal.
It was a beautiful day to fly here, after many, many weeks of unrelenting rain. Ugh. So glad that is over! On the way to Camarillo, I was in the right seat, just watching what my friend Henry was doing in the left seat, as this was my first time in this airplane. After takeoff, and upon reaching our cruise altitude, 4,000', he turned on the autopilot and let it do the flying.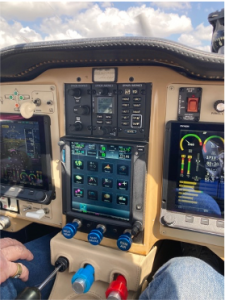 The cockpit of the Lancair Legacy is very high-tech, with a 'glass-cockpit' panel and voice command technology as well, which means there are synthesized voice prompts for certain things, reminding you that you are off of the assigned altitude, for example. You generally only find 'voice command' technology on turbine aircraft. But that is changing also. The flight time to Camarillo was about 25 minutes, at our speed of about 230 knots (260 mph).
Once at cruise, he asked if I'd like to fly! Of course! You don't have to ask me twice! He turned off the nav mode of the autopilot and let me fly. Since we were in level flight at cruise, there was not much to do. But I carefully applied some pressure to the control 'stick' and the controls were very responsive. After a few minutes, I told him he could take it again.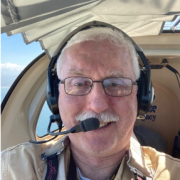 We landed at Camarillo and waited for a group of friends to arrive, a few at a time, in their various airplanes. We ordered lunch and waited and watched. It was a beautiful day to be outside, with no rain! Eventually about 15 other pilot friends had arrived, and it was a lively, jovial crowd. The food and service are good at the Waypoint Café.
After a leisurely lunch and some socializing, we all left to fly back. There was actually a line of aircraft waiting to take off. Camarillo is a busy one-runway airport, bult back in the early 1940's during WWII as an Army Training base for Air Corp Cadets. It has now created nearly 2,000 jobs and contributes nearly $230 million annually to the local economy.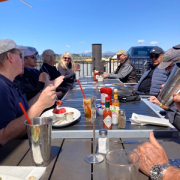 After a short delay, we were able to takeoff, and it was an uneventful flight back. About halfway back, I asked Henry if I could fly, and asked him to please turn the autopilot completely off. Before he had only partially turned it off. Now, I could get a chance to see how it flies, without automation.
Ok, so the flight controls are quite sensitive, meaning only slight pressure is required to get a response. But I was able to quickly adapt, and it handled very nicely. It was FUN!!  I flew it the rest of the way back to John Wayne Airport, as SoCal Approach (the radar facility) gave us vectors to the final approach to runway 20R. Then, once on final, about 2 miles from the runway, I gave the controls back to Henry, so he could land his airplane.
It was easy enough for me to keep up with ATC as the controller gave me, in quick succession, a series of turns, and descents and then had me slow down to fit in with the flow of airline traffic on final. It was no different than any other turbine powered aircraft that I've flown. You just have to stay mentally ahead of it, and be able to anticipate what's next. That is not a problem. Plus, I know the area, well.
After we landed the Lancair Legacy and taxied in and shut down, Henry congratulated me on my flying! He told me I did a really nice job, and now it's just a matter of learning the avionics…and how they operate. Thank you, Henry!  That's the challenge now, knowing the avionics. There are several different avionics 'vendors', such as Garmin, Avidyne, and Dynon, to name a few, all of which have slightly different operating systems.
So, another fun day of flying! And another make and model of aircraft flown, for me. I'm now up to 148 different makes and models flown, according to my logbooks. Actually, I started an Excel spreadsheet about 3 years, ago, with all of this information, so now I know, when the aviation insurance underwriters ask, as they always do, either when I might have a contract flying job, or when I'm going to instruct someone in their airplane. How much time in a particular make/model of aircraft?  That's just the way it is now.
And on Sunday, April 2, I'm off to the east coast, Rocky Hill, CT, to spend a few days learning my new job training pilots how to fly 'by instruments', aka flying IFR, in their airplane, in an accelerated 10-day course. This is my new challenge. It should be fun! I'm looking forward to this.
Fly safely,
John
https://johnmahanycfi.com/wp-content/uploads/2023/04/LancairLegacy2.jpg
634
1300
John Mahany
https://johnmahanycfi.com/wp-content/uploads/2015/07/JMALogo_6-300x147.png
John Mahany
2023-04-03 11:16:05
2023-04-03 19:25:28
Lancair Legacy