On January 4th and 5th, 2020, I attended a two-day course to become qualified to teach Avidyne Avionics, specifically the IFD540/440. Avidyne Avionics, headquartered in Melbourne, Florida, was founded in 1994. Over twenty-five years it has grown to become a market leader in avionics for general aviation aircraft.
We do not teach Avidyne Avionics where I currently work. None of our simulators have Avidyne Avionics. Thus, I took this course, as it presents a new opportunity for me. It was taught by a colleague and Master Instructor, Gary Reeves. Gary is now based in Decatur, TX, and owns Master Flight Training. He specializes in providing advanced Avidyne Avionics training, in the owner's aircraft, with three days of intense, one-on-one instruction. He is also the National Training Director for Avidyne Avionics, Inc. Ours was a small class, with only eight of us in attendance the first day. Only four of us who are CFI's stayed on to become qualified as Avidyne instructors. Gary covered Avidyne, along with ForeFlight in his presentation.
So, as stated above, I am now an 'Avidyne' qualified instructor. This is not an FAA designation, but is an industry term signifying that I have completed a course of training on the Avidyne IFD540/440 models. Avidyne is now one of several general aviation avionics manufacturers, which also includes names like Bendix/King, Garmin, and Dynon. Avidyne has its own unique features and operational capabilities.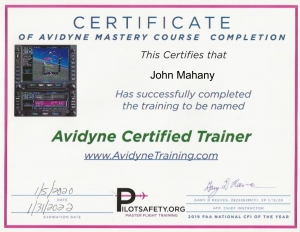 Initially, I will be doing what is called 'recurrent' training, for pilots who have previously taken their initial training with Gary. Gary is setting up an Avidyne Training Program with a select few of us 'hand-picked' instructors that he personally knows and has worked with. I have known him for about 10 years. They will take additional, or 'recurrent' training with myself or another Avidyne qualified instructor, to review operating the unit, and to keep up with the technology. There are only a few of us, nationwide.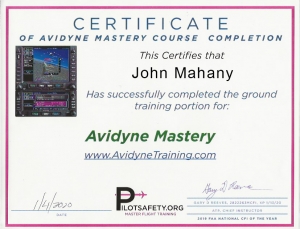 This training will be conducted one-on-one, on the ground, first, in a location to be determined (TBD), depending on a client's location. Possibly at an airport in an office or lounge area, or perhaps in a client's office, using my laptop or iPad and an Avidyne Trainer to review the system and check the weather. Following this we will go fly his/her aircraft, if the weather is suitable, and spend time in the air reviewing GPS procedures, and reviewing the operation of the IFD540/440.