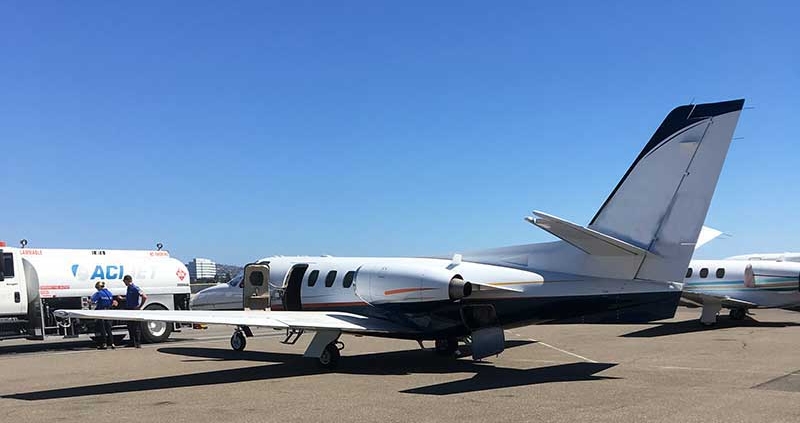 On Sunday, July 1, 2018, I had the opportunity to fly with a friend in his Single-Pilot (SP) Cessna Citation, a CE-501, from where it is based, at John Wayne Airport (KSNA) to San Jose, CA (KSJC), and back. It was a beautiful day to fly in Southern California. Though it was warmer than normal, with the OAT being ISA + 20 during climb and cruise. We were 'in between' weather systems, meaning there was no significant weather to deal with. There was almost no wind at altitude. Our TAS (True Airspeed) and GS (Ground Speed) were almost the same. The CE-501 is almost identical to the CE-500 except that it is certified under FAR 23 (Normal Category) instead of the more restrictive FAR 25, Transport Category. The takeoff weight is limited to 12,500#.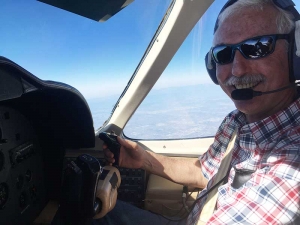 The flight time up was about 1+15. The return was about the same. There were no delays on either end. This was nice, considering that both of these are air carrier airports. He flew it up to SJC, and on the return flight, he did the takeoff and the climb to altitude, up to FL350.
As it is a Citation, all of the jokes about performance are true (bird strikes from the rear). It is slower in the climb and cruise, as well as on descent. But then the engines only produce 2,200# of thrust. And on a hot day they produce even less thrust, just like any jet. How many times did SoCal TRACON advise us to 'resume normal climb speed', and we had to respond, 'we already are'. We were not even able to go 200 knots. Our climb speed was 180 knots initially and gradually slowed to about 160 knots from there. We were already doing the best we could. And again, on descent, we were told to 'not exceed 250 knots'. We replied that that would not be a problem.
It is a very easy jet to fly the Cessna Citation, as most Citations are. They were originally designed for the owner/operator who was stepping up from a piston-twin Cessna. The panel arrangement is typically Cessna, and appropriate changes were made when the Citation line was designed.
On the way back, I took over on the descent at 29,000', disconnecting the auto-pilot and hand flying. It was wonderful!!! It is a very easy jet to fly. And FUN!! The flight controls have a very solid feel. They are not hydraulically assisted. They are purely mechanical, via control cables. Designed to be that way.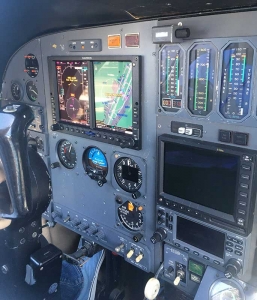 As we got closer to John Wayne Airport, I was relishing the flying!! It was SO MUCH FUN!! It's a hands-on, kinesthetic thing with me!! I'm a 'hands on' guy. Making many small adjustments with the controls (pitch, bank and power) to maintain the proper speed, heading and altitude, as SoCal TRACON vectored us towards a Visual Approach to Runway 20R at KSNA. Using sight, sounds and the 'kinesthetic' connection. So important. The 'man-machine' connection. My 'stabilized' approach and landing turned out very nicely!! Wow!! Right on the correct approach speed (Vref +10 in a jet), and so forth. Very rewarding to me. I don't get to fly in a real airplane nearly often enough. So, I look forward to every opportunity to fly. Even as this summer marks 40 years of flying for me, I'm still not jaded! I hope to keep it that way.
My friend even complimented me on how nicely my landing turned out. I realized a few minutes after we shut down, this was my first landing in a jet! Though I have done many in the simulator, it was uneventful, the result of much practice!  I've flown many turbo-prop aircraft and have done this many time in a flight simulator, but this was the first-time landing in a jet. I was just relishing the feeling — a feeling of deep satisfaction for a job well done!!
He has owned the Cessna Citation for about two years now, and in that time has had some work done on the jet. He has upgraded some, but not all of the avionics. It is a work in progress. As a result, the panel is sort of a hybrid combination of new and old. And it still has some work that needs to be done. That's all part of the process.
Aside from that, it was an enjoyable flight up and back! My friend typically flies single pilot, so is not used to having a qualified pilot/instructor in the right seat. He was very competent throughout, and there were no problems. He pointed out to me some of the issues that he is working to resolve on his Cessna Citation especially concerning the avionics. He does not fly often, so he is wise to train on a regular basis, returning almost monthly for additional simulator time to stay proficient and review emergency and abnormal scenarios in the simulator.
Until the next time,
Blue skies!
https://johnmahanycfi.com/wp-content/uploads/2018/07/CessnaCitation2.jpg
457
800
John Mahany
https://johnmahanycfi.com/wp-content/uploads/2015/07/JMALogo_6-300x147.png
John Mahany
2018-07-07 01:40:40
2018-07-08 03:23:44
Flying a Cessna Citation