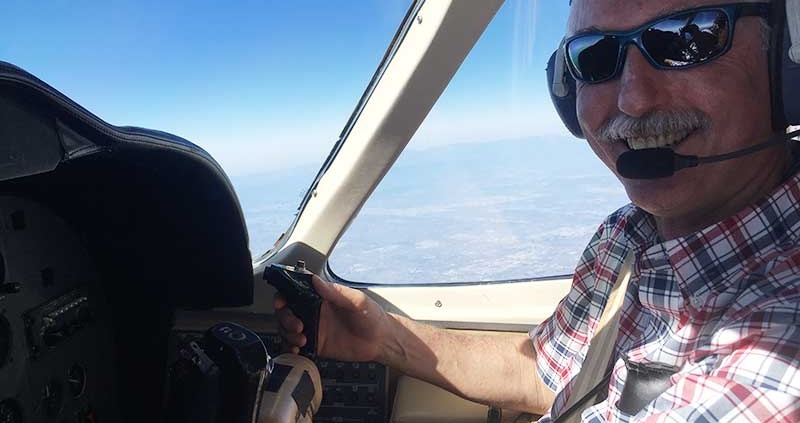 Certified Pilot – Forty Years Flying!
August 15, 2018, marks forty years since I earned my Private Pilot Certificate! Back then, I had not given any thought to forty years later! Who does? And here I am reminiscing about how far I've come! And I'm not finished yet!
Since that day forty years ago, I have logged more than 9,100 hours and have had the opportunity to fly more than 100 makes and models of aircraft. A wide range of experience, to be sure. Among my favorites is the 'Citabria', which is actually the word 'Airbatic' spelled backwards! It's a fun little aerobatic airplane that is a delight to fly! A very light but firm touch on the controls…it is a fun 'tail-dragger' airplane.
The most challenging by far was the Swearingen Metroliner 2, which I flew as co-pilot for Britt Airways, a commuter airline. No auto-pilot, naturally. We hand-flew every leg. Very demanding. A lot of work…and learned a lot!
---
Now I intentionally seek out new and different makes and models of aircraft to fly. And what is still true now, after forty years, is that I am still learning! There's always more to learn.
From busy tower-controlled airports, and quiet non-towered airports to paved hard surfaced runways, as well as the grass and gravel found off the beaten path in the back country, each presents its' own challenges. And then there's the water, when flying on floats…which depends on whether it's a river or lake…and more. There are many variables and each water landing is different. That is just one part of why I am still fascinated with flying, and am not bored, forty years later!.
I have been fortunate to be able to seek out many new experiences in flying along the way. I have now had the opportunity to fly aircraft including; single and multi-engine piston and turbo-prop aircraft, seaplanes, gliders, experimental aircraft, as well as warbirds, as well as fly on float and snow ski equipped aircraft. I have also had the opportunity to fly helicopters. All are fun, and some are more challenging than others!
In addition, I have been fortunate to learn the basics of mountain flying, as well as fly in the backcountry in both Alaska and Idaho. It's very different than flying in the 'flat-lands' of the Great Lakes, where I started. I have learned a healthy respect for the mountains. They always win!!
Along the way, I have also gained experience in both airline and charter operations, as well as a brief stint in corporate flying. Airline flying presents its own challenges, among them learning to deal with weather in an 'all-weather' operation. The training is relatively short (6 – 8 weeks), intense (lots of pressure) and fast-paced. It is very disciplined flying, in a scheduled airline operation, naturally. Charter, on the other hand, can be different every day, on every flight, depending on what the customer wants.
I've also gotten involved with humanitarian flying, which is very rewarding, with three organizations dedicated to this. They are AngelFlight, LightHawk, and the Civil Air Patrol. All three have different roles. All are volunteer organizations. AngelFlight typically flies people in need of cancer treatments, but who are not able to take an airline flight, due to their condition. AngelFlight fills this need beautifully. LightHawk's focus is on the environment and conservation. and using airplanes to create an awareness of what is happening to the environment. This is done by taking various members of the media, as well as politicians, and others with a demonstrated need, up to get a different perspective, from the air! It's quite powerful.
In addition, several years ago I was invited to participate in a record-setting flight! I had not done this before. I was one of four pilots who piloted a Vintage Beech-18 on a route from Carlsbad, California, to Phoenix, Arizona, and back, in a record-setting time! We did not land in Phoenix. Instead, we overflew Phoenix at an altitude of about 8,000' and turned around once over Phoenix while in touch with ATC, and returned to Carlsbad, where coordinated with the tower (ATCT) and made a low-pass over the runway for the purposes of getting the official time 'stamp' per the official FAI record-setting requirements, thus setting the record, and then returned for a landing! It was a lot of fun! I am hoping to do this again…in the next year, in my own Cessna 180.
I am always reading books, either reviewing or learning something…and now I am getting ready for the training to earn my next Type Rating, in a Gulfstream 4. This is a fast-paced three-week course with a a lot of material! It's a complex jet, compared to the Cessna Citation!  This has been on my bucket list for years  and the opportunity is finally here!
I am always looking for my next aerial adventure!! Blue skies!
https://johnmahanycfi.com/wp-content/uploads/2018/07/JohnMahaney_FlyingCessnaCitation.jpg
600
800
John Mahany
https://johnmahanycfi.com/wp-content/uploads/2015/07/JMALogo_6-300x147.png
John Mahany
2018-08-28 18:15:41
2018-08-28 18:52:45
Certified Pilot – Forty Years Flying!