Long Beach Airport Festival of Flight
Long Beach Airport Festival of Flight is opened to the public annually
On Saturday, October 29, 2022, a portion of the west side of Long Beach Airport was opened to the public from 10am – 4pm, for the annual Long Beach Airport Festival of Flight. There were some airplanes on display, including my Cessna 150, which was one of several smaller aircraft being displayed.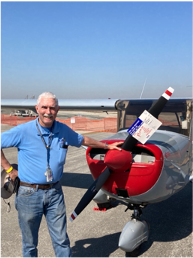 There were also many exhibitors, though fewer than last year, including some airport businesses, food vendors and music. It is a family friendly event.
This is a once-a-year event to allow anyone who is interested to see airplanes up close and ask questions. It is promoted on Facebook and Social-Media, as well as the local newspaper. The event organizers reached out to local businesses and were able to arrange for a UPS Boeing 757 cargo jet to be on display, along with several helicopters, and a US Coast Guard C-27 twin-turboprop, which is used for search and rescue.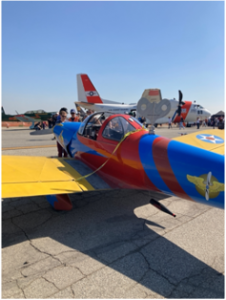 My Cessna 150 was a very popular attraction, once I opened the pilot's door! Shortly after that, a line started to form, and for about 90 minutes, parents and their kids stood patiently in line waiting for a photo op with their children in the pilot's seat, with a big grin on their faces! It almost resembled a line at Disneyland! Seriously. It was nice. I stood close by and watched carefully and answered a few questions that were asked about the airplane. The parents were very respectful of my airplane and the time, quickly taking pictures and keeping the line moving, thanking me as they moved on.
An event like this is really important now, as helps people get a better idea of what goes on at an airport, and the importance of aircraft and the many roles that they play in our world today. Many are simply not aware of this, aside from an occasional airline flight that they might take, or when they have something shipped vis FEDEX or UPS. Just the way it is now.
So perhaps this made a positive impression on some of the attendees, or on some youngsters, who might decide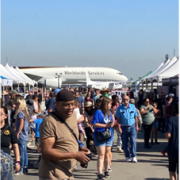 to find out more about airplanes and perhaps consider aviation as a possible career choice. This also serves as good PR for the airport and the community in general, to make those who come out to see this, more aware of the airport and get a better idea what goes on. It's better to be proactive, and build community support in advance, than reactive, after something happens, to try and educate people.
And did you know that the Long Beach Airport provides 9% of the jobs in Long Beach and has an annual economic impact of $11 Billion? This has been reported in the Long Beach Business Journal.
Fly safely,
John
https://johnmahanycfi.com/wp-content/uploads/2022/11/LongBeachAirportFestival2022.png
634
1300
John Mahany
https://johnmahanycfi.com/wp-content/uploads/2015/07/JMALogo_6-300x147.png
John Mahany
2022-11-25 15:18:25
2022-11-26 13:39:56
Long Beach Airport Festival of Flight