Honoring California's Most Influential Aviators
On Saturday evening, April 25, 2015, I attended a Black Tie Optional dinner at the Santa Monica Airport, hosted by the Aero Club of Southern California (ACSC). The occasion was the 2nd Annual Induction Ceremony and Dinner Honoring California's Most Influential Aviators, into the California Aviation Hall of Fame. It was a privilege to attend. There were probably 250 of us in attendance.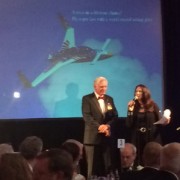 The four aviators who were inducted are; Mrs. Iris Critchell, Lt. Col. Fitzhugh "Fitz" Fulton, Jr., Robert J. Gilliland, and Burt Rutan. Each of these individuals has made significant contributions to aviation over the course of their long and illustrious careers.
Mrs. Iris Critchell is still going strong and is a spritely 95, and she is still a current pilot! She has the energy of someone much younger, a firm handshake and a sparkle in her eye! I had the distinct honor of meeting her after the dinner was over, but she has so many fans that I had to wait about 15 minutes before I had a chance to introduce myself.
Also, for this event, the Aero Club had commissioned a highly regarded aviation artist, Ms. Michelle Rouch, of Tucson, Arizona, an aviation enthusiast herself, to paint a mural of the inductees along with some of the aircraft they have flown. The painting was auctioned off during a silent auction during the dinner for $3,000.
I had the distinct pleasure of meeting and conversing with aviation legend and inductee Mr. Burt Rutan, along with his older brother Dick, both of whom are legendary and highly regarded among aviators.
It was an evening to remember. I am thrilled that I was able to attend.
https://johnmahanycfi.com/wp-content/uploads/2015/05/Most_Influencial.jpg
270
710
John Mahany
https://johnmahanycfi.com/wp-content/uploads/2015/07/JMALogo_6-300x147.png
John Mahany
2015-05-01 22:26:34
2015-05-01 22:58:46
Honoring California's Most Influential Aviators