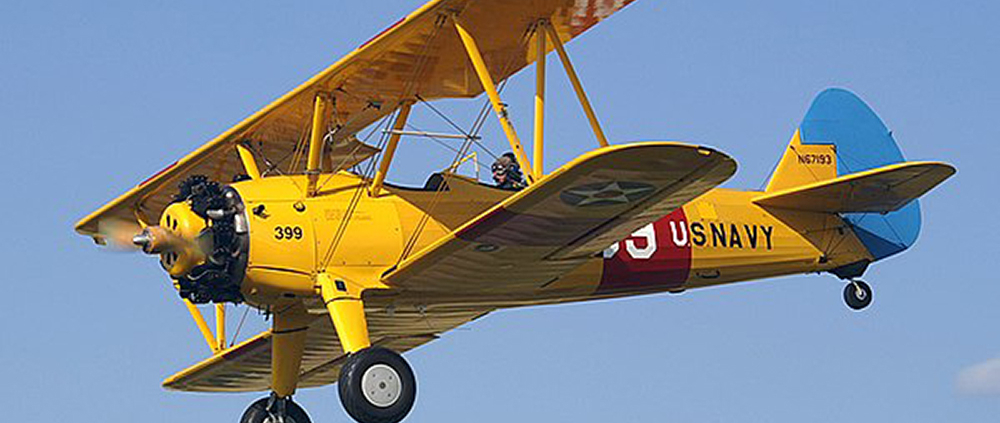 Flying the Stearman Biplane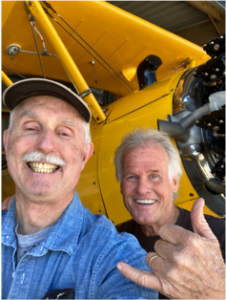 I recently had the opportunity to fly a Stearman biplane again! Flying the Stearman is fun!
My friend Mike Hanson owns a beautifully restored 1943 Stearman biplane, based at nearby Compton, Airport, KCPM, in Compton, CA. We had a deal; he flew with me in my 1970 Cessna 150 for some required proficiency training to maintain his pilot qualifications, and in return he offered me a chance get a ride in his Stearman and fly it!
Well, flying the Stearman is SO MUCH fun!! I last flew a Stearman about 35 years ago, at a small airport in Harvard, Illinois, northwest of Chicago. It was a beautiful day here in Southern California. And, despite the Stearman's larger size, and because of the drag of the large struts and the large frontal area of the Continental R-670-5 radial engine, it is really not that fast, either. But flying 'open cockpit' is fun!
To my surprise, it is light on the controls, and is easy to fly! But the view from the cockpit for maneuvering on the ground and for takeoff and landings is a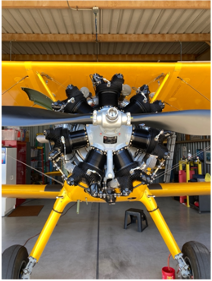 challenge. Because we sit behind the engine, we can only look to either side. I sat in front, and Mike was in the rear, on the controls. We wore leather flying jackets and headsets and had an intercom so we could communicate. I was a passenger as he taxied out and did the takeoff and the landing. Once in flight, he let me fly. What fun!
Our route of flight was "straight-outta-Compton" 1000′ agl, Alondra Park, then southwest to King Harbor then wing-up southbound along the shoreline to Palos Verdes Peninsula, L.A. / Long Beach Harbors, Queen Mary, North 710 LGB transition for the overhead approach returning to Compton.
Along the way, over the Breakwater at the edge of the LA harbor, we did some 'turns about a point', or 'ground reference maneuvers', as they are called, when you maneuver down low, between 600' and 1,000', and try to maintain a prescribed course over the ground while correcting for the wind. That's how student pilots learn to correct for the wind. And, when we were up higher, at about 3,000', I did a few medium and steep banked turns (60°), and then a power off (at idle) stall or two. It was fun to practice this basic maneuvers. It was fun flying around in a big yellow biplane on a sunny afternoon! IF you are interested in getting a ride in this Stearman, their website is www.biplanefun.com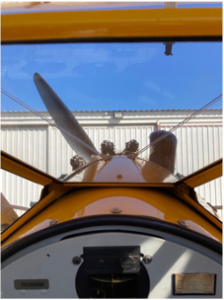 Flying the Stearman is wonderful for practicing basic 'stick 'n rudder' skills! Remember, the Stearman was used for primary pilot training by the US Army Air Corp (before it became the US Air Force) back in early WWII and taught 1000's of army pilots basic flying skills. Hence the designation, PT-17, Primary Trainer.
Have you, the reader, if you are a pilot, practiced basic stick 'n rudder skills lately? If not, get in touch with me and we can do this in the airplane you are flying. It's so important to keep your basic flying skills sharp! Too many pilots are letting their piloting skills atrophy with more and more automation in the cockpit, as I mentioned in a recent blog.
Fly safely,
John
https://johnmahanycfi.com/wp-content/uploads/2022/03/StearmanBiplane.jpg
667
1000
John Mahany
https://johnmahanycfi.com/wp-content/uploads/2015/07/JMALogo_6-300x147.png
John Mahany
2022-03-16 10:04:16
2022-03-17 09:43:03
Flying the Stearman Biplane