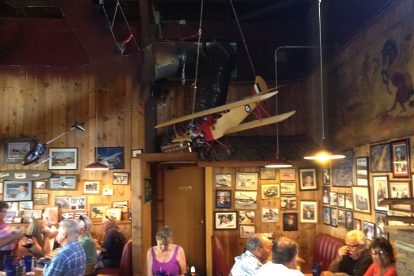 Flabob Airport, a step back in time
Fun Flying my 92-year-old pilot friend to Flabob Airport, a step back in time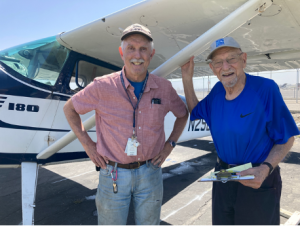 In early April, I had the opportunity to give an airplane ride to a pilot friend of mine to Flabob Airport, who is now 92! What a treat! At 92, he is still sharp as a tack but is hard of hearing. Of course. But he was able to get up and around. Gene career was in engineering. He has been both a pilot and aircraft owner for many years, but no longer flies. But I recently learned that he would very much like to go up again, and 'slip the surly bonds', as the poem goes, so we did. A friend and I took care of the arrangements.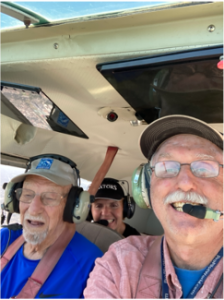 We met at the airport, and took pictures before getting in. Then I helped him to climb into the front right seat, which is a BIG step up in a Cessna 180. Then I carefully closed his door and got in on my side. We took off from Long Beach Airport and went on a short, 25-minute flight, at about 2,500' east over the LA basin, to Flabob Airport in Riverside, CA. To my surprise, Gene had not flown into Flabob before. Flabob Airport is like a step back in time. A single runway, non-tower airport, home to many Vintage aircraft, including the DC-3 that I was able to fly in September 2021.
We taxied in and parked in front of the Flabob Airport Café, then went in and had lunch. The Flabob Café is a family run restaurant, decorated with airplane memorabilia from a bygone era. Both the food and service are good. Following lunch, we made our way back to the airplane and took off again for Long Beach. Gene thoroughly enjoyed the flight! It was my pleasure to be able to take him on a flight. Once a pilot, always a pilot! It was also fun to fly my Cessna 180 again, because I don't fly it as much as I used to.
How about you? What kind of fun flying have you done, lately? I hope you are doing some FUN flying, to FUN places!
IF you'd like to review anything, maneuvers, or book work, please let me know. We can arrange a time and place, or do it virtually via Zoom. I'm flexible.
Fly safely,
John
https://johnmahanycfi.com/wp-content/uploads/2022/04/FlabobCafe-copy.png
276
414
John Mahany
https://johnmahanycfi.com/wp-content/uploads/2015/07/JMALogo_6-300x147.png
John Mahany
2022-04-22 11:56:11
2022-04-22 14:59:37
Flabob Airport, a step back in time