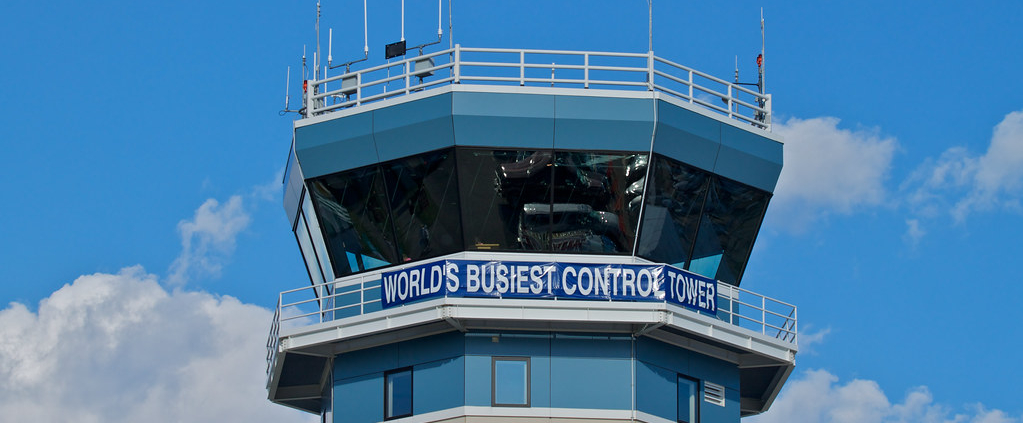 Flying low and slow across the country
Lots of Planning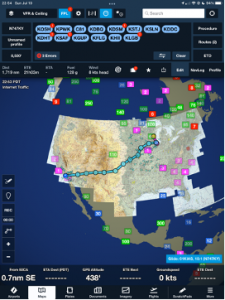 Last month, after lots of planning, starting in March, I flew my 2 seat Cessna 150 from Long Beach, California, 'low and slow', about 85 – 95 knots across the country to Oshkosh! It was awesome! Thirteen legs over four days getting there, twelve legs and three days, returning. I planned fuel stops roughly every 2 hours or about 200 miles, being conservative. I attended the world's largest aviation gathering, or celebration if you prefer to call it that. Oshkosh is aviation 'mecca' for one week each year, normally the last week in July.
Almost 10,000 airplanes flew into Oshkosh for AirVenture
This year attendance was estimated at 650,000, with people traveling in from all over the world! But in spite of the large crowd, it is very well managed, and people are well behaved and respectful. The grounds are almost free of litter. Almost 10,000 airplanes flew into Oshkosh and were parked on the grounds at AirVenture. There really is nothing else like it.
After some unexpected delays, I was finally able to leave SoCal, early Wednesday morning, July 20. The weather cooperated, for the most part. There was one small 'airmass' thunderstorm, just east of Flagstaff, that was stationary, so I was able to safely deviate around it after takeoff. The density altitude was over 9,000',  and there was a headwind, and I was under gross weight. It took a longer takeoff roll to get airborne, but I was able to climb out, just slower than normal.
I spent Wednesday evening in Santa Fe, NM, at a Doubletree Hotel. The next day, Thursday, I had made it across 'the heartland of America', flying northeast across OK/KS/NE and landed in Lincoln, NE for the night. The nice folks at Duncan Aviation were able to arrange a room for me at a Marriott Courtyard Hotel downtown. The third day, Friday, I made it to Clinton, IA for the Cessna 150 fly-in and lunch there, and then tookoff in mid-afternoon and flew 1+20 northeast to Dodge County, WI for the night.
Planning is Key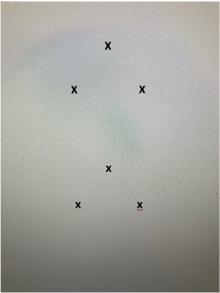 The next day, Saturday, the 'mass arrival' was planned, during the early afternoon, with just over 100 Cessna's flying in formation, 35 'flights' of three aircraft each, stretching out several miles. All coordinated with Oshkosh ATC, of course. See the image with 'Xs' for airplanes, at right, that illustrate this. It's a very highly organized, well-planned, 'arrival'. What a blast!! It took about 50 minutes for this flight…
And then the weather moved in. A typical Wisconsin summer afternoon thunderstorm moved in on us at around 5 pm, with a torrential downpour and wind gust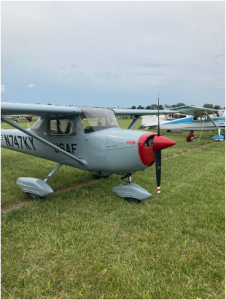 s up to 50 mph! It lasted over an hour. Some tents were blown down. It was a bad start to the week for some campers. Fortunately, I was staying in the dorms. For the rest of the week, the weather was excellent!
It was a very busy week in Oshkosh, each day packed with activities and things to see and do. And you simply cannot see it all, because so much is going on simultaneously all around you. And there are lots of friends and colleagues to connect with, as well, some of whom I only see once a year while there. I am also actively involved as a volunteer for two organizations, and this adds to it for me. This included breakfasts, lunches, and dinners with various organizations.
So after a crazy busy week, I had arranged to leave on Saturday morning, July 30, and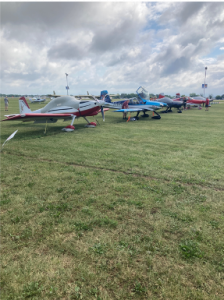 flew 90 minutes south and east to north suburban Chicago, to the same airport where I had learned to fly in 1977, after college. It's still there, but now 'rebranded', like so many other things. The former 'Pal-Waukee' Airport is now renamed Chicago Executive Airport, because of the large presence of corporate jets that are now based there. It is a really nice facility.
Weather, Good and Bad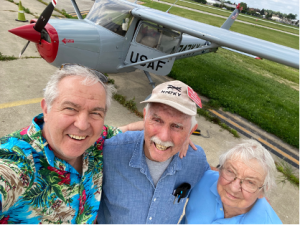 After a fun weekend visit with family, who wanted to hear all about my adventures so far, I delayed my departure on Monday morning because of early morning thunderstorms and the lingering adverse weather conditions that followed it. And one of my brothers drove my mother and I to the airport on Monday morning. So, they finally got to see my airplane! That was nice.
Then after hugs and goodbyes, I flew north for about 30 miles, staying low enough to avoid Chicago O'Hare's Class 'Bravo' Airspace, though I did get 'flight following' from Chicago Approach (radar facility at KORD) which was very helpful, and then turned west to my first stop, Dubuque, IA, where the weather was much better! After getting fuel and lunch, I took off and continued southwest towards Des Moines, IA, for fuel, and then finally, Lincoln, NE, where I stopped for the night.
The next morning, I left Lincoln, taking off by 7:30am, and flew southwest to Salina, KS, then Dodge County, KS, Dalhart, TX and finally due west to Santa Fe, NM, for the night. And the airport restaurant in Dalhart, TX had closed before I arrived! Darn, no lunch! So, I continued to Santa Fe, about a 2 ½ hour flight, dealing with headwinds, turbulence and dodging some rain showers along the way. All of that is typical of this area. They were not threatening in any way. And Santa Fe was very nice!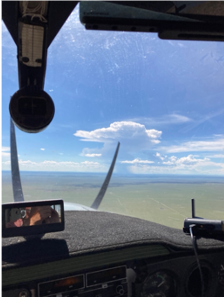 Finally, my 3rd day, I left Santa Fe early, then flew west to the small city of Gallup, NM. There a new fuel vendor was just starting in business, and there were a few things that weren't ready. Like the credit card kiosk. After my credit card was declined several times, I went to their office and told them about this. They quickly took care of me, and I was able to get fuel and leave.
Next stop Winslow, AZ where the 100LL was $1.26 a gallon cheaper than at Flagstaff! So, I topped off in Winslow and headed for Lake Havasu City, over the mountainous terrain in northern Arizona. Just over 2 hours en route, I stopped there for fuel and lunch in the 105° heat. Ugh. I am no fan of the heat. But they have a nice on airport restaurant, Hangar 24, with indoor dining and of course it's air conditioned!
After lunch, I took off and because of the hot sun shining through the 'skylight' windows overhead on my airplane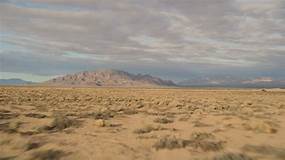 (only a few Cessna 150's have them), both my iPad and iPhone soon overheated! Ugh. I turned both off and moved them out of the sun. I knew what heading to fly and headed south and west across the rugged, mountainous, southern California desert. It's a harsh landscape! Especially in the summer heat! I'd hate to have a forced landing there because of engine problems.
Finally, about 2 ½ hours later, again after fighting headwinds and turbulence, I arrived back in Long Beach! It was good to be back home, after two weeks traveling with my tiny Cessna 150. But it was quite an adventure!! No regrets.
There were lessons learned, and more….much to share, as well. Too much to write about, here, in more detail. I'm working on all of that, now. If you have questions or comments about any of this, please reply using the comments box…
Considering a long cross-country flight?
I am available for training, in your airplane, should you be in need of any FAA Wings Training for Credit. Also, if you are considering a longer cross-country flight, and have not done this before, please get in touch and I can provide some help with the planning and other considerations. There are many, depending on what you fly.
Especially concerning the weather. Many pilots are not comfortable with their understanding of weather, or lack thereof. I can help with this. Weather has long been an area of interest for me. I got 'official' weather briefings daily along my route. I'd call 'Flight Service', or 'Leidos' as they are now called, in the evening for an 'outlook' the next day, and then I'd call again in the morning before taking off to get a 'standard' weather briefing, and along the way I'd call and get an 'update'. The briefers did an excellent job. In addition, a friend had recently sold me his Garmin GDL-52 Sirius XM Aviation Weather receiver, that connects via Bluetooth to my ForeFlight iPad app, so I had real-time inflight weather info.
Also, I will be creating some quick reference materials that will be available in PDF format, containing some tips and lessons learned from this, that you will be able to download for a nominal fee.
Fly safely,
John
https://johnmahanycfi.com/wp-content/uploads/2022/08/Oshkosh.jpg
682
1023
John Mahany
https://johnmahanycfi.com/wp-content/uploads/2015/07/JMALogo_6-300x147.png
John Mahany
2022-08-12 14:03:40
2022-08-16 08:51:32
Flying low and slow across the country